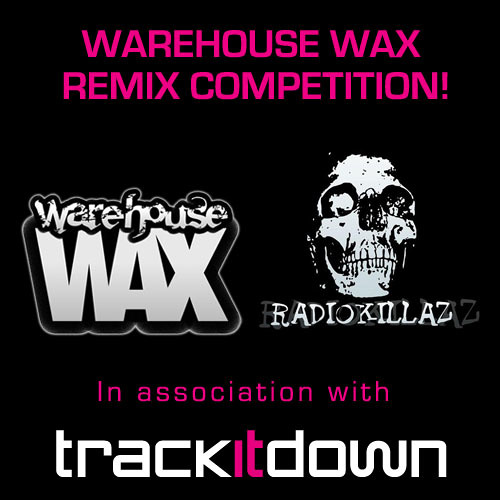 TO CELEBRATE 10 YEARS OF WAREHOUSE WAX, WE ARE HOLDING A REMIX COMPETITION…
THE PRIZES:
1. A years Warehouse Wax subscription (Worth £49.99). Which will include getting all releases on Warehouse Wax a week before the release date as well as getting the entire back catalogue (over 100 tunes) in mp3 format. More info about the subscription service here:
www.warehousewax.co.uk/subscription-info/
5. The winning remix will also get released on Warehouse Wax later in the year, on the forthcoming album which is currently being compiled by Vinyl Junkie & Sanxion.
HOW TO ENTER:
Read the rules and download the parts. In downloading the parts you are agreeing to abide by these rules!!
Your entry should be submitted, in mp3 format (320) with the filename and the title on Soundcloud as follows: WWREMIXCOMP - your_artist_name.mp3
Please make sure it is set to PRIVATE. Also make sure that you include your email address in the description and make sure it is a valid one as the winner will be notified by email. Entries not set to private or with no email address will be disqualified.
The winning entry will need to be supplied to us at a later date as an unmastered 24bit Wav so please ensure that you have this.
The final date for submissions is June 21st.
The Judges for this competition are Vinyl Junkie, Kickback, Sanxion and of course the RadioKillaz.
Winner will be announced on July 1st.
Remixes can be in any genre you like...
RULES
1. Entries must not contain uncleared 3rd party samples. By this i mean vocals or musical elements that have been taken directly from other peoples tunes. Sampled breaks and beats are perfectly acceptable as are samples taken from licensed / royalty-free sample packs.
2. Entrants must not be employees of Warehouse Wax Music or Trackitdown.net
3. The remix parts supplied must not be used for the production of any other music outside of this remix competition.
4. Any remixes submitted MUST NOT be uploaded to any other Soundcloud page or any other online platform in any form whatsoever (including being used in mixes or podcasts) with out permission in writing from Warehouse Wax Music. This means, not even once the competition has ended…
5. Only one entry per artist.
Good luck
John & Gareth
WAREHOUSE WAX MUSIC LTD
Tony & Skin
RADIOKILLAZ
& The Trackitdown.net Family !!
A massive thank you from us to Trackitdown.net for supplying some great prizes and for their continued support of the scene.