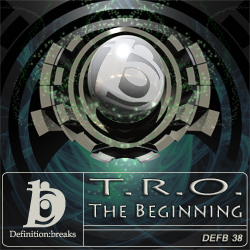 Defb038 - T.R.O. - The Beginning (clips) by Definition:breaks
Germany's T.R.O. has been putting out quality tunes and remixes on various labels for a long time, and his own label Furisio shows that a label doesn't need genre boundaries to release good music. So when he did a remix for us a while back we have been bugging him for an original track to release - and The Beginning is the result!
A phat yet bouncy track that has basslines, beats and energy in abundance needs a couple of quality remixes to complete the package. So who better than Refracture to return to the label and provide us with yet another slice of his own brand of heaviness! This one keeps ramping up the pressure to an almighty acid and breaks breakdown - pure class. And to finish off Spain's Physical Bross throw a complete curve ball and give us an awesome hybrid of a remix.
Released by: Definition:breaks
Release/catalogue number: Defb038
Release date: Aug 23, 2011