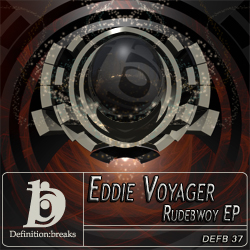 Defb037 Eddie Voyager - I Will Follow (clip) by Definition:breaks
Definition:breaks packed release schedule just doesn't stop - but also doesn't slack on the quality!!
Eddie Voyager is becoming part of the furniture here at Def:breaks - and we have managed to steal some more of his time away from his label Held II Ransom, and he has put together his 2nd full release of original material with us - and what a massive EP it is....
Both of these 2 tracks are hittin hard with plenty of dancefloor bounce, and a touch of Welsh swagger....
Released by: Definition:breaks
Release/catalogue number: Defb037
Release date: Aug 2, 2011