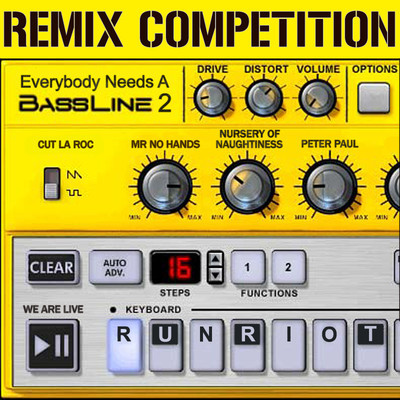 RuN RiOT - Everybody Needs a Bassline2 (Paranoid Androidz Remix) by Paranoid Androidz
Paranoid Androidz Remix for the Run Riot - Everybody Needs a Bassline2 Remix Contest. If you like our remix, please help us win by Favoriting our track so we can win the contest!
We Are Live Records & Dizzyjam.com are giving all you budding DJs and producers out there the chance to remix RuN RiOT - Everybody Needs a Bassline2. RuN RiOT's biggest track to date, it was named one of the Breaks tracks of 2010 by Kiss FM, hit top #10 in the Beatport Breaks chart and helped him to win Best New Producer at this years International Breakbeat Awards...
Highly original powerslam of a track - 8/10 iDJ
Everybody Needs A Bassline2 is an epic acid fest Far Too Loud
Seriously my tune of the year right now. Fucking 47 different types of WOW Daniella Downs (Dead Famous)
Excellent anthem from RuN RiOT. PLAY IT LOUD! trackitdown

DOWNLOAD THE REMIX STEMS FREE HERE OR HERE
3 WINNERS: 2 tracks chosen by RuN RiOT & We Are Live, and 1 track with the most amount of favourites
The winning remixes will be released on We Are Live as part of the 'Everybody Needs a Bassline2 Remix EP' at the end of the summer. The 3 winners will also receive a RuN RiOT t-shirt of their choice as supplied by Dizzyjam.com, where bands, DJs, venues, and events can make money by creating and selling their own merchandise.
All styles and genres will be considered and you may submit multiple remixes. Once you have finished your remix just upload it to this group!
The DEADLINE for remixes is 1st July 2011 - GOOD LUCK!!
Facebook event: https://www.facebook.com/event.php?eid=215908148444158